Lido Deck incorporates a wide variety of venues for those who would like to do everything from stay physically fit, completely relax, swim and sun, or enjoy a great meal.

Completely forward on Lido Deck is Spa Carnival. Much of the space of Spa Carnival is dedicated to keeping fit while at sea. The gymnasium offers activities such as aerobics, yoga, pilates, spinning, weight lifting, and personal fitness analyses.

Also within Spa Carnival are the spa facilities. Guests may enjoy beauty treatments that are specialized for men and women such as facials, loofah treatments, manicures, pedicures, and hairstyling.

For the ultimate in relaxation while aboard the Carnival Pride, guests may enjoy services such as hot stone treatments, aromatherapy, herbal cleansing, holistic skin rejuvenating facials, and a wide range of massage options.

There are separate steam room and sauna areas for both men and women. Like most other Carnival Cruise Line ships, the steam rooms and sauna areas provide sea views for the ultimate in relaxation. These sauna and steam areas are accompanied by locker room and restroom facilities. Guests may obtain a locker key by checking in his or her Sail & Sign card.

Also part of Spa Carnival is the Look Beauty Salon. The beauty salon's professional staff can help guests with hair and scalp conditioning, cut, and coloring services. Additional services include eye brow shaping, waxing, manicures, pedicures, and grooming services for men.

Aft of Spa Carnival is Club O2 for teenagers (ages 15 to 17). Club O2 allows teens to relax and enjoy meeting new friends, watch a movie, listen to music, play video games, or participate in karaoke.

Club O2 directors are trained in getting teens involved in interesting activities. Some other Club O2 activities include game consoles, sports, teen only shore excursions, dance parties, pool parties, and outdoor movies.

Amidships on Lido Deck are the Lido Apollo and Lido Venus pools. They are separated by the Bar Venus. The Lido Venus pool has a sliding sky dome overhead to allow guests to enjoy pool activities even during inclement weather.

There is a variety of seating throughout the Lido pool areas to allow guests to dine outdoors if they would like.

The Lido Deck pool area behind the band stand incorporates a mural of Sandro Botticelli's 'Birth of Venus'. The 'Birth of Venus' depicts the goddess Venus having emerged from the sea as a full grown woman, arriving at the sea shore. At the time of this publication the original work was located at the Uffizi Gallery in Florence, Italy.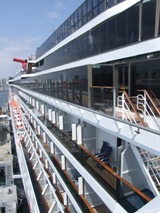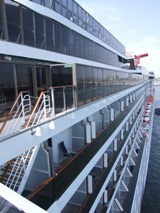 Dining options within the Mermaid's Grill include a 'Taste of the Nations' station, 'Asian Corner', deli, rotisserie, salad bar, pizza station, and an ice cream parlor located outdoors and aft.

Also located aft behind the Mermaid's Grille is the Lido Poseidon Pool. Rounding off the nautical and mythical theme is a statue of Poseidon emerging from the sea with dolphins jumping about.